How to Use Globe Rewards
posted by: Rio Dianne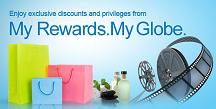 In April 2010, Globe Telecom Philippines has started a unique system to give back to their loyal subscribers and that is through the Globe Rewards program.  Apparently, the promo made a lot of consumers to be fuzzy upon receiving the text message.  And up until now, the permanent points and rewards system are still making a buzz so if you haven't started using your points yet and you've been wondering how to use globe rewards, this is the updated guide on how to claim it.
How to Use Globe Rewards
Below is a list of the keywords you can text in to claim your rewards by sending to 4438:
BAL – for points inquiry (Php1/ text)
ITEMS – for free list of rewards
VIP <space> HELP – for free details on VIP membership
REDEEM <space> ITEM CODE – to claim rewards (Php1/text)
SHARE <space>10-DIGITMOBILE# <space> POINTS – to transfer points (Php1/text)
PIN <space> 4DIGITPIN MIDDLE NAME – to activate pin
STOP – to stop all 4438 texts
Here are some of the items available which can be redeemed:
SMAC20= 260 points
SMAC500= 650 points
SMAC1000= 1300 points
SULITXT15= 15 points
IDD20= 20 points
IDD30= 30 points
UNLI20= 20 points
UNLI40= 40 points
GC1000= 1250 points
SM2000= 2125 points
SM3000=3150 points
SM5000= 2150 points
NOKIA C101= 3175 points
NOKIA 2220= 3375 points
NOKIA 5130XM= 5200 points
DVD PLAYER= 5950 points
WOW VIDEOKE= 6500 points
IPOD NANO 4GB= 8150 points
CANON DIGICAM= 8400 points
NINTENDO DSl= 10425 points
TV= 11125 points
Points are earned everytime you reload and it will be updated every seven days.  There you go, this is how to use globe rewards.  For postpaid subscribers, learn more by visiting your Globe outlet to know more about Globe extras and plus.  Stay rewarded! Enjoy!
You might also like
How to Pasaload in Globe
Nowadays, mobile subscribers in the Philippines are familiar with sharing load. This is particularly...

How to Load Globe Tattoo
Globe Broadband Tattoo, formerly known as Globe Visibility, is Globe telecom's offering to the masses...