How to Load Globe Tattoo
posted by: Rio Dianne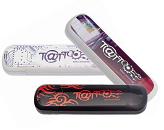 Globe Broadband Tattoo, formerly known as Globe Visibility, is Globe telecom's offering to the masses who want to stay connected without the use of modem as the USB stick which it utilizes act as a modem already.  As the review says it, users will simply plug the stick into their desktop or laptops to go online while on the go especially when they are out to travel.  The stick also uses 3G and High Speed Download Packet Access to allow fast downloads and Internet browsing. End users also get to experience an upgraded network with up to 2Mbps of speed.
The kit comes with free load of a denomination of Php 100 upon purchase.  The free load can be used for browsing for five hours.  However, once you've consumed your free load, you may be asking how to load Globe tattoo, right? Basically, the answer on how to load globe tattoo is very easy since your Tattoo Prepaid SIM can be loaded just like any normal SIM card.  It can be reloaded to various load retailers such as the following:
Globe Regular Load
Globe Prepaid Call Cards
Share – a – Load
BPI Express Online
BPI Express Teller ATM
These days, you can also enjoy unlimited high speed Internet browsing by texting in the specific keyword for just P60 per day.  You can buy your Globe Broadband Tattoo kit for P1, 495 and comes with cool globe tattoo designs to choose from.  Finally, users can also opt for post paid Broadband services for a price of Php 799 per month.  There is also a Globe Tattoo SuperStick to let you enjoy connections wirelessly as a portable Wi-Fi spot.  Enjoy!
You might also like
How to Pasaload in Globe
Nowadays, mobile subscribers in the Philippines are familiar with sharing load. This is particularly...