How to Unli Call and Text in Globe
posted by: Rio Dianne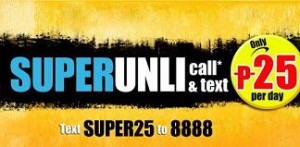 With the idea of allowing their consumers to communicate endlessly with their family and loved ones, Globe Telecom is actually offering a couple of promos which many subscribers can enjoy. For instance, unlimited call and text is one of the promos that many Globe users look forward to. So, how to unli call and text in Globe, you ask? We'll learn more to find out.
How to Register to Unli Call and Text in Globe
The promo is dubbed as the SUPERUNLI CALL & TEXT where you can enjoy unlimited calling and texting for 1 day. Registration can be done by texting SUPERUNLI25 and send it to 8888. The promo can be availed for 25Php/ day and you get to make endless calls to all Globe and Touch Mobile (TM) subscribers. You have to make sure though that you maintain atleast 1Php to enjoy the service.
Do you feel the need to register for more than one day? Well, there may not be any registration for 5 days or 1 month, but you can make unlimited texting and calling to any Globe or TM subscribers for 150Php/ 7days. What you need to do is to text in SUPERUNLI150 and send it 8888.
So, there you go. Take note that this only applies for prepaid subscribers. There is a separate plan for postpaid users which let you get pleasure from making unlimited calls and text anytime you want. For more inquiries, make sure that you visit the nearest Globe Telecom in your area to learn more about their promos.
You might also like
How to Pasaload in Globe
Nowadays, mobile subscribers in the Philippines are familiar with sharing load. This is particularly...

How to Load Globe Tattoo
Globe Broadband Tattoo, formerly known as Globe Visibility, is Globe telecom's offering to the masses...

How to Use Globe Rewards
In April 2010, Globe Telecom Philippines has started a unique system to give back to their loyal subscribers...