How to Video Call on Facebook
posted by: Rio Dianne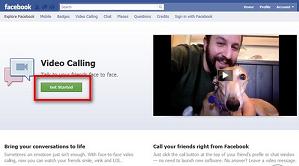 As a response to Google Plus' Hangout, Facebook has teamed up with Skype and came up with a new feature on FB – the video calling. So at the moment, if you want a deviation from using Skype or video calling via Skype, users of Facebook can now communicate with their friends and loved ones minus the hassle of using other instant messaging parties.
Many users are getting pleasure on the newest addition on FB, but if you haven't tried this yet or maybe yours in not working, here are some helpful tips on how to video call on Facebook. Continue reading the rest of the post below.
Facebook Video Calling
Before you start with your video chat feature, you need to finish a quick set-up.  And so tart setting up, follow the steps below:
Choose a friend whom you want to call, and click the video icon found at the top of the chat window.
Click the "SET UP" button to install the feature.
You may have to download the file and make sure you click the "RUN" and wait for it to be successfully installed.
After installation is done, video call will automatically start and you will only have to wait for the specific friend to answer the call.
Okay, so you've set up the feature already, now you are more than ready to make several calls to your FB friends. To do this:
Choose the friend you want to call from your online friends and click the video icon. You can also go to your friend's profile and click the "CALL" button seen at the upper right corner of his page.
It will take some time to connect so you have to be patient.
In the instance when your friend is offline, you can leave a video message.
By following the steps mentioned above, your chatting experience via Facebook will definitely be upgraded to a higher level. Enjoy!
You might also like