How to Activate Facebook Timeline
posted by: Rio Dianne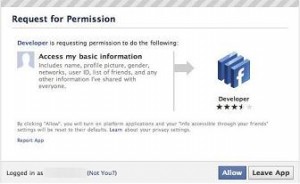 Just recently, Facebook has come up with their newest FB interface dubbed as the Facebook Timeline. The new timeline, as the name says, is a feature where your time of activities and other events are seen starting the period when you joined Facebook. Somehow, it's more of like a Facebook history timeline then. The feature has gone public in October 2011, and in the instance when you haven't enabled your FB Timeline, below is a short tutorial on how to activate Facebook Timeline. Make sure to follow our tutorial and instruction below.
Steps on How to Enable Your FB Timeline
Log in to your account.
Once you've logged in, go this link https://developers.facebook.com/apps. Click the ALLOW button to continue. Click on the CREATE NEW APP afterwards.
A pop up window will appear which will ask you to enter APP DISPLAY NAME and APP NAMESPACE. Write any name which you prefer. Check the "I agree" part and click on CONTINUE. Do not forget to enter the correct security code.
Now that you've created a new app, you will be directed to a new page where basic info about your app is displayed. Locate the OPEN GRAPH button on the upper left side of the page.
Define an action and object on your app and write whatever you want to write there. an example may be read a novel. Click on the GET STARTED once you're done.
Scroll down to the page and hit the SAVE CHANGES AND NEXT. Another page will appear where you will scroll down to the lower part of the page and click SAVE CHANGES AND NEXT. Finally, click on the SAVE AND FINISH button on the third page.
Now, log in to your account again. on the upper part of your homepage, you will see a message introducing you to the new timeline. Click on the GET TIMELINE button, and you're done.
Other perks of the new timeline feature includes adding up a cover photo which can serve as the background of your page. You can also click on the START TOUR to learn more about your newly installed application. Have you tried other steps and they're just not working or not showing? You might have made some mistakes on the step. therefore, follow the instructions carefully regarding activation of your timeline. Finally, if you wish to deactivate the app, you can always go to the developer app and delete the app. To reactivate it means you have to perform this hassle-free guide regarding your quest. Enjoy!
You might also like