Leaked Video Scandal of a Mall Security Guard
posted by: Dennis Aguilar
A mall security guard was caught in the video having a happy moment with a woman who seemed to be a sales lady somewhere in the public place inside a mall. The video was uploaded by one person namely Jozh Reyes and is now getting viral on social media like facebook. The uploader of the video gave a "SM Security Guard" title. But a lot of netizens reacted on facebook saying that It could cause serious damage to SM Security because of the fact that the security guard was not really working at SM.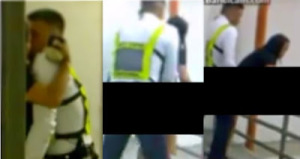 One netizen reacted on facebook saying this…  
"this guard (in the video) is NOT SM SECURITY. Photo posted is SM Prescribed Uniform. False and very damaging yung post mo. Sana makasuhan ka."
Being threatened, the uploader was forced to remove the video after just a few hours. Unfortunately the video has already gone viral and making the rounds on the social media at this moment.
You might also like