World's Smallest Hotels
posted by: Gretchen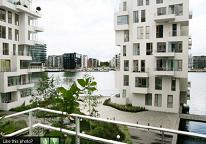 If there are hotels that compete for the "world's tallest hotel" and "world's largest hotel" titles, there are also ones that are tagged as the smallest hotel buildings in the world.  These hotels are usually called capsule hotels.  They really have tiny rooms for guests but despite being tiny, they offer great amenities and can get pricey, too.  What is the smallest hotel in the world?
Let's get to know the smallest hotel and let's find out how its features.  Keep on reading.
Smallest Hotels in the World

Hotel in Copenhagen, Denmark:  It features two rooms which are minimally decorated.   See the image on the upper left.
Hotel Punta Grande in Spain:  This is a perfect accommodation for those who want to be away from the noise or urban areas.  You will get closer to the breathtaking views in the place.  It's actually overlooking the Atlantic Ocean.  You need to be brave to stay here because it is pretty dangerous.  The waves can even touch the building itself.  This hotel appears in the Guinness Book of World Records as the smallest hotel in the world.
Airstream Caravan (pop up hotel) in London:  Just recently this year London has launched the smallest hotel in the world.  It measures 203 sq. ft. and it features check in desk, room service, dining room area, a flat screen TV, double bed, and en-suite facilities.
Woodpecker Hotel in Sweden:  It can only accommodate a single guest or couple.  The room is actually placed in tree house.
If you are in New York City for a holiday and you want to save some bucks, you can stay at small motel rooms in NYC.  You can also join a club to receive benefits when you book.
If you are dubious of these hotels, you can still have them checked from any sources that are available.
You might also like
World's Ugliest Hotel
Are you fond of traveling ?   Travelers may visit different places and may stay in different hotels....