Tallest Hotel in the World
posted by: Gretchen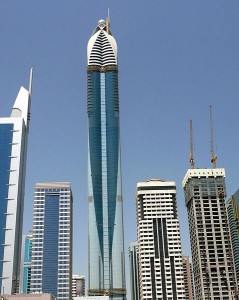 God has really bestowed special skills and talents to mankind. He created teachers, nurses, doctors, architects, engineers, accountants and others that truly make wonders.  They do and create things that prove how powerful He is.  What else can you say about the skyscrapers built by the hands of engineers and architects?   They are really amazing!
The tallest hotels in the world are found in Asia. Have you heard of Rose Tower in Dubai?  It's actually the world's tallest hotel with the height of 333 m (1,093 ft) and with 72 floors.   It was built in 2007 but it is not operating yet.   The tallest building in the world is also situated in the same city.  It's called Burj Khalifa.  It is surrounded by hotels, shopping destinations, and entertainment options.  These are the pride of Dubai, United Arab Emirates.
The second world's tallest hotel is Ryugyong Hotel in Pyongyang, North Korea. It is 330 m (1,083 ft) tall.  It has 105 floors.  It has reached its full architectural height in 1992.  This is also the first building outside New York & Chicago with over 100 floors.
Next in line is another building from Dubai. Burj Al Arab, the third tallest hotel in the world.  It is 321 m (1,053 ft) tall with 60 floors.  It was built in 1999. Burj is Arabic for Tower.  The profile of an Arabic sailing ship has a great influence on the design of the building.  It also features a total of eight restaurants and bars. This hotel also has helipad.
These skyscrapers obviously have surpassed those that are in Europe and North America.  So if you want to see how magnificent these are then travel and enjoy your leisure time!
You might also like
World's Smallest Hotels
If there are hotels that compete for the "world's tallest hotel" and "world's largest hotel"...

World's Ugliest Hotel
Are you fond of traveling ?   Travelers may visit different places and may stay in different hotels....