Hotels near Mall of Asia, Manila, Philippines
posted by: Gretchen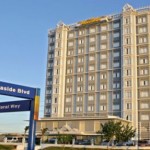 Since the rise of SM Mall of Asia (MOA) in May 2006, it has been one of the favorite shopping malls of many Filipinos and foreign visitors, especially those that are within Metro Manila. SM mall of Asia is located in Bay City, Pasay City, Philippines. It is not the biggest mall in Asia but the 3rd largest shopping mall in Asia and the world's 4th largest shopping mall in the world according to Forbes' World's 10 Largest Shopping Malls.
One of MOA's main attractions is the first ever IMAX theater in the country. The San Miguel-Coca-Cola IMAX Theater is one of the biggest IMAX screens in 3D and 2D screenings in the world.
However, we aren't going to deal with the features of the mall. This post is focused on the hotels located near the vicinity of the shopping mall. These include the following:
Microtel Manila Mall of Asia: It is a luxury hotel yet fresh and urban in design. Aside from it's within the mall complex, it is also near the Ninoy Aquino International Airport. That makes it really accessible.
Heritage Hotel: Just minutes away from MOA, this hotel offers easy access to hot spots like Manila Bay yacht clubs, and Makati and Manila districts. It underlines good facilities and rooms.
Sofitel Philippine Plaza: This hotel is close to Philippines International Convention Center. It is a unique luxury hotel with a resort setting. It features 609 rooms and suites with balconies and spectacular views of Manila Bay sunsets. This hotel will give you the best services like the ones you could experience from the best of western countries.
Copacabana Apartment Hotel: It offers quality accommodations that won't break your budget. It is an alternative to the normal hotel experience.
Traders Hotel: It offers 312 roomy rooms and suites with excellent beds and panoramic views of Manila Bay and Roxas Boulevard.
Pick your choice and enjoy the convenience and comfort they could give you. Enjoy the warm accommodation and the shops in MOA.  There area also cheap motels around if you want to save some. You can also try Holiday Inn in Ortigas but it's no longer within the neighborhood of MOA. Holiday Inn is near Robinson's Galleria. These are the hotels that help in boosting the tourism industry in the Phils.
You might also like
Best Places in Dubai
Dubai is known as the leading business hub of the Middle East. It is a city that keeps on stretching...