How to Go to Manila Ocean Park
posted by: Gretchen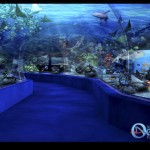 The Manila Ocean Park is one of the tourist attractions in Manila, Philippines. It started its operation in May 2008. Now, it is now one of the favorite destinations of foreign and local visitors.  This attraction is actually a state-of-the-art oceanarium owned by China Oceanis Philippines Inc.  It features an 8, 000 sq. ft floor area and a 25-meter underwater acrylic tunnel. It is located behind Quirino Grandstand.  It is the first and the largest aquarium facility in the Philippines. Once inside the park, your eyes will be amazed by marine creatures like fishes, sharks, and invertebrates.  You will really learn a lot about marine life.
Major Attractions
Oceanarium:  Discover over 5, 000 varieties of marine creatures. Around 3, 000 species are indigenous to the Philippines and the Southeast Asia.
Marine Life Show:  Feast your eyes with the most loveable members of marine life community.  You will meet Icis, Isabel, Yeni, Sandra, and Vincent.
Musical Fountain Show:  Experience the fun of the country's first and grandest musical fountain.
Aquanaut Voyage:  Experience the up-close encounter of marine life under the sea. Interaract with 5, 000 fishes.
Fish Spa:  Could you imagine your hands and feet being nibbled by small fishes? These small fishes will take away your dead skin. Don't worry because it is painless and you will enjoy it.
The entrance fee at the Manila Ocean Park only applies to attractions.  Prices vary from one attraction to another.  However, you can get discounts by availing cheap promotion packages.  The park is also a good party venue.
How to get to Manila Ocean Park
The answer actually depends on your location. But bear in mind that the main landmark streets are South Drive and Katigbak Drive and roxas Boulevard. The grandstand faces Quirino Grandstand towards Roxas Blvd. Behind it is Manila Bay. United Nations is the most accessible LRT 1 station. Take note also that there are no public transportation vehicles that pass through the place. You can take a cab or a calesa from Rizal Park to Manila Ocean Park. Going to the park isn't so hard, right?
To make your visit in Manila more exciting, drop by to Star City and enjoy the rides there. After taking thrilling rides, you can shop at the nearest mall, which is called Mall of Asia (MOA). You can also take pictures at the bay or witness the sunset along the beach. After a long and tiring escapade, take a rest at Manila Hotel and experience the warm hospitality of Filipinos. Enjoy your stay!
You might also like
Star City Entrance Fee
Star City is a favorite destination of families who want to have fun with their kids. It is located in...