Where to Go in Tagaytay City Philippines?
posted by: Gretchen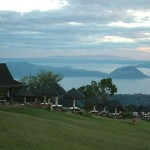 If you are around Metro and Mega Manila and you want to unwind and cool down with your family, friends, or special someone, Tagaytay City could be the most accessible place for you. This is not only a good attraction for Filipinos but also for foreigners. What makes it different from nearby cities?  Its weather!  It is similar to the weather of Baguio City, the latter is a lot colder though.
Major Attractions
Looking for the must-see spots in Tagaytay?  Well, take a look at the following list:
Picnic Groove:  Things to do include horseback riding, zip lining, running around the rolling train, shopping for food and souvenirs, and taking a look at the Taal Volcano from the view deck.
People's Park in the Sky:  This is the highest place in Tagaytay.  From here, you can view Manila Bay, Laguna Lake, and the Taal Lake.  In there, you can see the Palace in the Sky which was started by the late President Ferdinand Marcos and the First Lady Imelda Marcos, to accommodate President Ronald Reagan and his First Lady.  However, the visit was cancelled and the palace has remained unfinished.  The park is good for picnics.
Tagaytay Highlands: It is a stylish country club in a sloppy area of Tagaytay City. It is surrounded by greeneries and you'll see an enchanting view of the Taal Lake. It features cable car, a sport center, kart racing track, a spa, golf course, and a beautifully landscaped swimming pool. It also has restaurants and cafes with fine dining experience.  Try the buffet lunch at the Veranda.  You can also try other restaurants like Antonio's Garden Restaurant.
When in Tagaytay, try to visit Canyon Woods, a residential resort in the city. Include it in your list of places to visit on your vacation.  You can also consider it as one of the places where you can stay.  Have fun!
You might also like