Best Culinary Arts School in the Philippines
posted by: Gretchen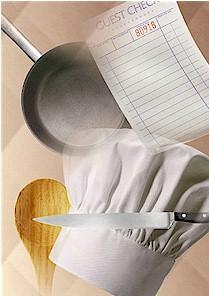 Everyone can cook but not everyone can be a good cook or chef.  This is a gift from above. It's considered a talent, a passion. Once you have this, you have to make use of it. Let other people know that you have it. Satisfy their tummies and make them crave for more and more.
Hospitality business offers employment opportunities for chefs and cooks abroad. That's why many people shift careers to culinary arts with hopes that they will also have the chance to work abroad. Now, there is a growing population of culinary arts schools. But of course before you enroll and invest your money, you have to check the background of the school.  It should have a good reputation here and abroad. It should be recognized internationally.
Invest your money, time and effort in schools that can make you a well-known chef. Search for the best culinary art school in the Philippines. One thing that you can do to get an idea about the quality of the schools is to read the reviews posted over the net.  You'll see top- ranking schools and the courses that they offer.
Top 10 Culinary Schools / Top Pastry Schools (in random order)
Magsaysay Center For Hospitality & Culinary Arts in United Nations Ave., Manila
Center for Culinary Arts, Manila in Quezon City
International Culinary Arts Academy Cebu in Cebu City
Iontercity College of Science and Technology in Davao City
American Hospitality Academy Philippines in Salcedo Village, Makati City
Academy for International Culinary Arts (AICA) in Pasig
Enderun Colleges in Fort Bonifacio, Taguig City
International School For Culinary Arts & Hotel Management (ISCAHM) in Quezon City, Metro Manila
Center for Asian Culinary Studies in  San Juan, Manila
Heny Sison Culinary School in Cubao, Quezon City
Studying culinary arts is way expensive.  For those who have tight budget but want to learn the art of cooking, you can also look for schools that offer free culinary courses or the cheapest culinary school. Build your dreams with your passion to cook.
You might also like