World's Smallest Car
posted by: Gretchen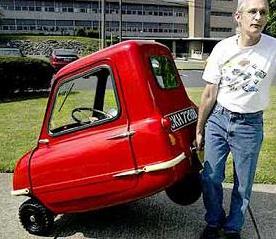 You probably know the world's fastest car and the world's most popular car. But did you ever wonder what the world's smallest car is?  I've been fascinated with cars recently and while I was searching online, I came across with the smallest car that men have ever built.  The miniature car undoubtedly fascinates ever person who sees it. It's such a cute but real thing.
What is the Smallest Production Car in the World ?
The name of the smallest automobile that is ever produced is Peel P50.
It was originally produced by Peel Engineering Company in 1963 and 1964.
Peel P50 was designed by Henry Kissack and Cyrill Canell.
This tiny car measures 134 cm in length and 99 cm in width.  It weighs 59 kg.
It features 49 cc, two-stroke engine.  It does not have a reverse gear so the driver has to get down and pull it backwards.
It does not also feature a starter motor.
Peel P50 has a single door on the left side.  It also features a single windscreen wiper and a headlight.
It is lightweight and has three wheels.  It is allowed to be driven on British streets.
It lacks power suspension and has small tires, of course.
It is not so safe to drive this auto especially when you are driving on rough roads. It may turn upside down.  You'll regret you'd even tried!
It's actually designed as a city car.
This micro automobile is not good for two passengers.  It is designed for one person only, just the driver himself.
What do you think? Is it fun to drive this small auto ?  I think it is!   Well, meet this car personally at Ripley's Believe It Or Not.
You might also like
World's Smallest Hotels
If there are hotels that compete for the "world's tallest hotel" and "world's largest hotel"...

World's Smallest Cellphone
A lot of mobile phone manufacturers are looking for ways on how to attract consumers' attention towards...