Biggest Cat in World Guinness Records
posted by: Gretchen
In my previous posts we have talked about the world's fattest baby and the world's fattest man.  Now we are going to deal with the biggest cat in the world recorded by Guinness Book of World Records. I will also include other cat records.
Largest Cat – World Records
As of 2009 and 2010 Hercules holds the Guinness  Record for the largest cat. It is a liger, born from a lion father and tiger mother.  The parents of Hercules are of the same genus but of different species.  This large cat has a weight of 900 pounds, and a height of 12 feet.  See the photo below.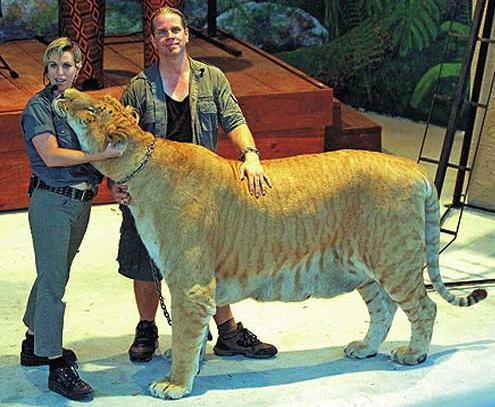 The speed of Hercules is up to 50 mph and can consume 100 pounds of food in just one sitting.  Most ligers are recognized for their huge body but they are unhealthy.  The ligers are actually the largest cats. However, Hercules has come out with the best from both feline races.  This giant animal is not to be scared of because it is very tame.  On the other hand, tigons or tiglons also have lion and tiger parents but they are usually smaller compared to ligers.
Other Records – Smallest and Oldest Cat
Smallest cat: The name is Mr. Peebles.  This kitty has a weight of around 3 pounds and a height of 6.1 inches. This is because of genetic deficiency.
Oldest cat : The name of this oldest one is Creme Puff and it was born on August 3, 1967.  The animal was 38 years old at the time of its death.
The information about the fattest  in the world is unclear so I regret to say that I cannot talk about it.  Watch the video of Hercules below
You might also like