The Real Life
posted by: ofri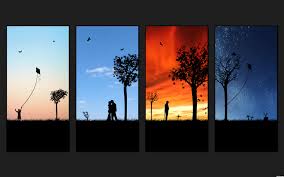 When we we're young we cry to the smallest of fault and reproach. Our sense of self is weak and delicate.All that makes us happy was play and leisure and was completely clueless about how adults are struggling with their own world.We couldn't accept sadness as part of life.In our young innocent mind its nothing less than a disturbance in our dream like paradise.
As we were growing up we could gradually relate .We are beginning to recognize the many facets of life.The life that is is sometimes gloomy,hostile, difficult –real.
You cannot get through life without pains.As much as you couldn't determine pain without joy.This two comes hand in hand.They cannot be separated .They are meant to be felt by and by.
When you feel like things are falling into piece and help is far from  reach, pause if you may but don't you ever stop. Problems are ought to be taken action not to be accused of making you either weak or beaten.We need to look for options and possibilities.Most of our problems are often transitory and we even are partially responsible of our own a problems matter-of-fact.
Our life is never full without problems.It is the manifestation of being human. It cannot be denied nor broken in the real world.
It dances to the tune of your own music.
You might also like
World's Smallest Car
You probably know the world's fastest car and the world's most popular car. But did you ever wonder...

World's Smallest Cellphone
A lot of mobile phone manufacturers are looking for ways on how to attract consumers' attention towards...

World's Smallest Hotels
If there are hotels that compete for the "world's tallest hotel" and "world's largest hotel"...