"I admit, I'm fat and ugly and she's sexy and beautiful!", Devina Devida Apologized to Filipinos and Miss World Megan Young
posted by: Dennis Aguilar
The most hated devina dediva – a woman who posted racist comments about the recent winner of Miss World Megan Young and also to all the Filipinos has finally apologized to Megan Young and to all the Filipinos.
Her negative comments impacted her life so much that she got fired on her job as an assistant teacher and even has criminal charges filed against her.
Now Devina Sharma (her real name) made a twitter account just to express her apology.  She said that she is regretting the words that she said about Megan Young and all the Filipinos.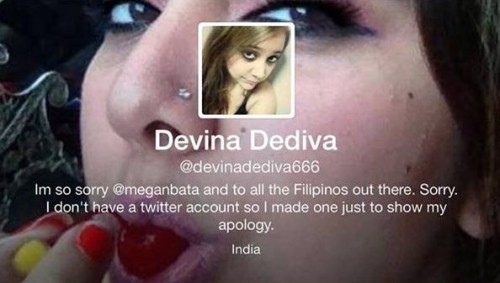 "I admit, I'm fat and ugly and she's sexy and beautiful!", Devina Devida Apologized to Filipinos and Miss World Megan Young
"Im so sorry @meganbata and to all the Filipinos out there. Sorry. I don't have a twitter account so I made one just to show my apology,"
She also added that she feels disgusted because her grandmother is being taken care of a filipino nanny who is so good and kind.
There are some Filipinos who accepted her apology but still there's a lot of Filipinos who are commenting againts her. Seems like the twitter itself is not yet ready to forgive her because Twitter suspended her account just a few hours after she made her account.
You might also like
Dating Tips for Ugly Guys
The reality of love is that it isn't always fair.  You don't always get what you want and who you...