How to Download PDF Files to iPad
posted by: Rio Dianne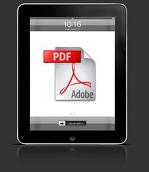 The Apple iPad was surely an enormous hit that it even paved way for other manufacturers to cater the same tablet idea to the market.  But iPad still reigns to be the widely used tablet PC all over the world.  Among its features, I guess the most sought after one is its superior way of reading PDF file format and ebook in its brilliant screen. However, most users wonder how to download PDF files to iPad since they can't download using Safari or transfer their local files on iPad.  There is a way so don't you fret.  In this post, we'll tell you how to download PDF files to iPad, so read on.
How to Download PDF Files to iPad
To start off, you need to get a PDF reading apps which you can use. Oops, we don't cling to the Adobe Reader anymore.  For this, we can make use of one of the most versatile document reader for iPad – the GoodReader.  This is available at the iTunes store at $0.99 and this can be used to handle large PDFs.
Next up, you can launch to iTunes and connect your device to your Windows PC and follow some of the actions below.
Click on the device.
Click on the Apps tab, and then scroll down until you see the File Sharing menu and proceed to GoodReader which is listed under Apps.
Add files by clicking on the Add button.
The file window will open, make sure to locate the files and select them.
Click on Open, and once you're done adding the files you wanted to transfer to your device, click on the Sync button.
Voila, that's it.  Now your PDFs will be available through the GoodReader app on your iPad.  This is how to download PDF files to iPad.  The steps are pretty simple.  So we hope that this article was a big help!
You might also like
How to Clean iPad Screen
The iPad is really a beautiful possession, and you yourself are just so overwhelmed with how much you...