How much is iPad in Philippines, Singapore, Japan, China, Hong Kong, USA and Saudi Arabia
posted by: Rio Dianne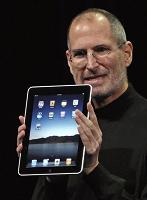 Apple's iPad Tablet PC has definitely aroused the interest of a lot of mobile consumers. Users from all over the world are actually looking forward to getting a grip of this slate by themselves because of its portability than laptop PCs. Before we go about telling how much is iPad, let's take a quick rundown first of its specs and features to find out why most people are getting gaga over having their own slate.
The 9.7 inch LED touchscreen display comes equipped with a 16GB memory onboard.  It is encased in a black screen border which perfectly sums up to be a good looker.  It is Wi-Fi ready to get you connected while on the go plus the device's user interface is quite easy to manipulate by tapping it simply, swiping, and pinch-to-zoom.  In addition, users will be able to experience a lot of apps suited for the device like Maps, YouTube, Mail, iTunes, and Apple apps store.  Finally, it gets a long battery life specifically atleast 10 hours of use.  The downside though is that the slate doesn't have support for Flash storage.  It doesn't have a camera, and other ports.  And the last thing – it's a bit hefty.  Ooh, so how hefty is the Apple's iPad?!?
How Much does iPad Cost ?
China: The tablet PC started selling in September 2010, the 16GB model is priced at CNY3988, CNY4788 ($708) for the 32 GB model and CNY5588 ($827) for the 64 GB model.  There aren't any updates regarding the 3G versions yet.
Hong Kong: Launched in July 2010, the gadget comes at a price tag of HK$3,888 for the 16GB version and HK$6,488 for the 64GB Wi-Fi + 3G model.
Japan: Pre-orders for the device started on May 2010 at a price of 48,960 yen (16GB Wi-Fi) and 58, 320 yen (64GB Wi-Fi + 3G)
Philippines: As of September 2010, the iPad is unofficially available in the Philippines yet.  However, more devices have surfaced in the Filipino market which offers the tablet PC.  For one, it's been spotted in Greenhills and the price range from Php 29,000-50,000.
Saudi Arabia: The device is available through reservation for the 16GB model that will cost you 2,886SR.
Singapore: Had its official launch in July 2010, this one's cost is SGD$728 (16GB Wi-Fi) and SGD$1288 (64GB Wi-Fi + 3G)
USA: Launched in April 2010, the slate is available at a price of $499 for the 16GB Wi-Fi version and $829 for the 64GB Wi-Fi + 3G.
I guess that's it.  You may also want to contact your favorite retail stores to know more about how much iPad is.  We hope that we've answered your query.
You might also like
How to Clean iPad Screen
The iPad is really a beautiful possession, and you yourself are just so overwhelmed with how much you...