How to Clean iPad Screen
posted by: Rio Dianne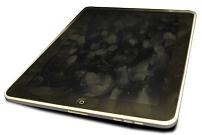 The iPad is really a beautiful possession, and you yourself are just so overwhelmed with how much you love it.  Just what is the evidence?!?  Your fingerprints.  Ideally, this gadget which has 9.7-inch screen size with glossy LED-backlit widescreen Multi-Touch display with IPS technology is built as an oleophobic.  Meaning to say, the device is resistant to oils.  However, even if it has an anti-oil coating, smudges from the fingerprints are still left on it making it soiled and dirty.  Of course, this is one hefty investment so wouldn't it be better if you know how to clean iPad screen properly ? Make it look new and allow it to perform its utmost and learn how to remove dirt and scratches and go about cleaning your iPad.  Here's how.
How to Clean iPad Screen
Disconnect the device to any of the accessories and unplug the cables.
Turn the device off so you'll be able to see the monitor more by pressing and holding the Sleep/Wake button.
To start clean up, use a soft microfiber cloth (preferably the one used for eyeglasses) and dampen it a little.  Water is the best choice of cleaner for this. Remember to avoid using window cleaners as it can damage its oil-resistant characteristic therefore reducing the functionality of your device.  Even alcohol which many find efficient is a total No-no.
Wipe of the screen in a circular motion, and make sure that the dirt and smudges are wiped-off.  Repeat the procedure until your device is finally smudge-free.
In addition to the cleaning method, you may also want to use a protective cover like an iPad screen protector just like the ones which are commercially available in your local stores.  This way, it will help you protect the screen thus making the appearance of fingerprints and scratches less likely.  And this is how to clean iPad screen, allow it to function optimally by following our cleaning steps above. Finally, this can work on your iPod touch screen as well.  Good luck!
You might also like
How to Clean Monitor Screen
So, are your flat screen monitors or LCD monitors bugging you with fingerprints and smudges?  That happens...