She Was Sick of Her Husband And His iPad.. Her Solution? Brilliant
posted by: Dennis Aguilar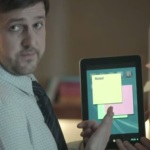 In this French commercial titled "Emma," this man is ready to embrace technology and put paper in the past.  He stresses his point to his wife and kid until he finds himself in a situation where an iPad is no substitute for the real thing.
https://www.youtube.com/watch?v=RRDSj62tlvQ
You might also like
How to Clean iPad Screen
The iPad is really a beautiful possession, and you yourself are just so overwhelmed with how much you...