Jinggoy Estrada Arrested After Trying to Smuggle Money Inside His Breast to US
posted by: Dennis Aguilar
I don't know if this is true or not but I just read it from one blog saying that Senator Jinggoy Estrada was recently arrested after trying to smuggle money inside his breast to United States.
The author said that the airport authorities grew suspicious when they saw a noticeable bulge on Senator's chest area.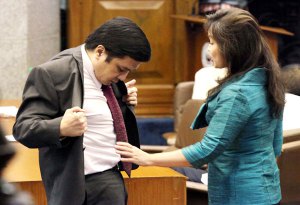 The authorities closely inspect the senator using scalpel and they discovered that Senator Jinggoy Estrada had bundles of money hidden in his skin and muscles. Senator said that they need the money in order to seek medical advice from US doctors.
"We counted millions worth of Pesos that we suspect belongs to the Filipinos," said Ogg.
Airport official decide to frisk Senator Jinggoy Estrada when they sensed that he was just telling a lie.
Read the full story at sowhatsnews.wordpress.com
You might also like
How to Make Breast Pads
Nursing pads are worn to absorb milk that may leak during feedings.  These are worn inside your bra...