Duterte Named De Lima As The Highest Ranking Official In The 'Matrix' Link To Bilibid Drug Trade
posted by: ofri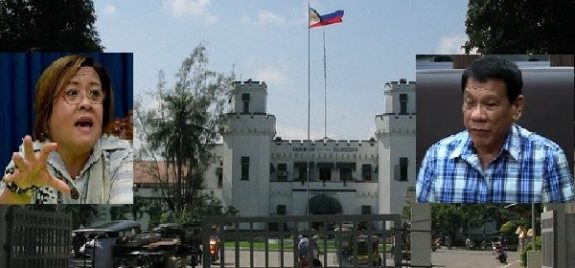 Senator Laila De lima was the highest ranking official in a drug 'matrix'  link to Muntinlupa drug trade beside an undersecretary and a governor according to President Duterte in an ambush interviews by the media Tuesday August 23.
Former Department Of Justice ( DOJ ) Undersecretary Francisco Baraan who was the  adviser to  New Bilibid Prison ( NBP) in Muntinlupa City under the Aquino Administration was also in the list. Duterte even bared that a governor who he consider his friend was on the  'Muntinlupa Connection' as well to his surprise.
The President also vows to disclose the other information and  personalities affiliated in the NBP drug business after verifying everything early this week. An  exposé was  released to the public by Duterte  early last week about De Lima's  connection to the drug trade in Bilibid where her driver- bodyguard Ronie Palisoc Dayan collected the pay off for her in the national penitentiary.
Senator De Lima in the other hand had  vehemently denied the accusations by Duterte and swear to resign  and be shot dead if proven guilty . De Lima a staunch critic of the President is leading the case proceedings on the extra judicial killings early this week on the height of the President`s war against  crime and drugs.
You might also like