Tips when Writing a Resume
posted by: Gretchen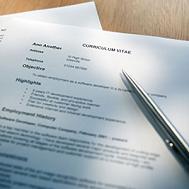 When applying for a job, you need to impress your prospective or potential employers by filling out an application legibly and submitting a good resume or Curriculum Vitae (CV).  What is a resume ?
A resume as defined by wikipedia is a marketing tool used by individuals to get a new job, a promotion, or a raise in salary.  It contains relevant information about an individual to convince a potential employer. It outlines your education, accomplishments, work experiences, and strengths.
Tips when Writing a Curriculum Vitae
Include the key components of a standard chronological resume.  The components include the following:
Identification. This part should include your personal details like name, address, contact number(s), and e-mail address so that a potential employer can reach or contact you.
Job/ Career Objective.  State your career interests and objective. Explain the kind of work that you want to do.  Make it brief but clear.  If you don't want to include an objective in your CV, you can express your career interests in your cover letter. So you have another option.
Education and Qualifications.  This section outlines the schools you attended and years of attendance, degrees, and honors/ awards received.  Start with the most recent education – your degree or postgraduate qualification or high school qualification (for high school graduates).
Work Experience.   This part of your Curriculum Vitae should include the job title, dates of your employment, and the name of the employer.   For international applications, include the name of the country.   List your employment history in reverse chronological order which means you start with your most current experience.
Interests.  This section shows that you are interested in other activities and that you are a well-rounded individual.
References.  This section includes details of two character references.
Are you ready to create your own resume?  Do you need walkthrough guide? There are templates and examples of resume available online.  Look for other techniques and format, too.  Search them to guide you in making your resume great.  Resume wizard can also be of great help to you.  Good luck!
You might also like