How to Write a Job Reference List
posted by: Gretchen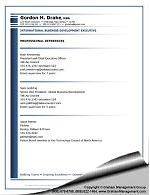 When applying for a job, your CV or resume, together with the page cover letter reaches the prospective employer first.  This is the reason why you need to make it good and interesting.  You should be able to create a good impression with the details listed in your curriculum vitae. However, don't ever think of writing false information just for the sake of impressing the employer. Your background can always be checked.  That's why you have a reference list.
What is a reference list?
A reference list is a page of names, contact numbers, and positions of good job references.  The names listed in this page will be contacted or reached for a reference check. This means that you have to be careful with the names that you include in the list.  A reference list should be given if your potential employer asks for it.  Don't include it in your resume.  Use another sheet of paper.
Writing a Good Character Reference List
How do you list references?  Here are some tips to help you make a good reference list:
Before you even use a person as a reference, you need to ask permission first.
Observe consistency.  Use the font style you used in you curriculum vitae.
On the top of the page, write your name, address, contact number, and email address.  It should be placed at the center of the sheet.
Type the title 'Reference' below your information.  Underline it.
Now, type the names, positions or professional titles, addresses, contact numbers, and email addresses of your employment references.
You can have four references.
You're done!  You can follow this guide in making your list now.  If you want to see a sample format, go online and search.  You can see many samples of reference lists and letters but be careful as you might get a bad sample.  Good luck! I hope that you will be able to get a good work and career!
You might also like
Tips when Writing a Resume
When applying for a job, you need to impress your prospective or potential employers by filling out an...