How to Make a Good Resume for Job
posted by: Gretchen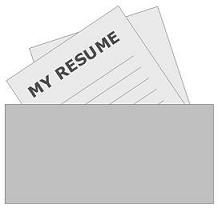 After graduation the first thing that enters into your mind is finding a good job.  But it's pretty difficult to find one.  You're not alone.  Many people out there need one like you do.  There's a stiff competition when you go out for job hunting.
One thing that you can do to have an impact is by creating a good impression to the employer.   How in the world you can do it? You need a good and presentable resume (CV or Curriculum Vitae).   This piece of paper gives an idea of who you are.   So create an outstanding personality through your resume.
How to Make a Good Resume (CV) for job
There are important things that you need to include on your resume. You will see a resume outline below.
Name/ Contact Details :  At the top of your page you should include there your complete name and contact details (telephone number and email address).
Profile :  In your profile you can outline, summarize or highlight the details of your life (birthday, religion, height, weight).  Just include the things that will be relevant to a potential employer.  But do not oversell yourself!
Major Achievements : These can land you to your dream job.  You should outline 3-6 of them. Again your achievements should be relevant to what an employer is looking for.  You can include your organizations or clubs.
Educational Background : You should also highlight your educational background (from elementary to your highest educational attainment). Start from the most recent qualification. Pay attention to your internships for fresh graduates.  You may leave irrelevant qualifications.
Work Experience :  List your work experience in reverse chronological order which means you have to start with your most recent position and work your way backwards. Put emphasis on your main responsibilities.
Language: List down the languages that you can speak. But this is optional.
Hobbies/Interests : These can help if you are a fresh graduate. Your employer can relate to these. This is also optional.
References : Have a list of character references like your former professor or employer.
In addition to resume you also need to make a cover letter.  This will also help the employer decide.  If this resume outline is not enough for you to make a resume for job try to search for resume samples or examples and resume templates for further reference.  I'm sure you will be able to make a good resume whether for full-time or part time job.   Good luck!
You might also like
Tips when Writing a Resume
When applying for a job, you need to impress your prospective or potential employers by filling out an...