Best Graduation Gifts for Girls
posted by: Gretchen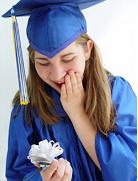 Graduation is a very important event in the life of anyone.  It's like you are reaping the fruits of your hardships and sacrifices. One way of showing that we are happy for someone on his/her graduation is by giving gifts.  This is a way of expressing our warmest congratulations.
Graduation Gift Ideas for Girls
Cash:  High school graduates prefer to receive money on their graduation day simply because they want to earn some for their college education.  Cash would be a great present if you don't mind how much you would spend.
Computer:  It could be desktop computer or notebook.  This will be very useful to the person, especially if she has plans to pursue higher studies.
Digital Camera:  If you plan to give her a digicam, give it in advance so that she will have something to use on her big day.  She will be able to capture the last moments with her classmates.
Cellphone:  Give her the latest phone model, that is, if you can afford it.
Gift Certificate:  Give her the freedom to choose the things she wants to have.
Personalized Gifts:  If you are creative enough to create something unique, you can utilize cheap things that you have at home.  You can also buy personalized flip flops.
Air Ticket:  If you have the means, you can give the greatest and best gifts for anyone. Money can buy almost everything. Make the graduate feel that you are very proud of her.  Give her a treat.  Let her travel abroad and have fun in there. It will be a trip to be remembered.  This is more applicable for college graduates.
There you go! You can now choose from the given list of presents.  Hope this helps.
You might also like
Best Gift for Sister
Giving gifts to your loved ones is one way of showing you care for them.  They feel that they are special...

How to Be Happy in Life
Sometimes we think that it's hard to be happy especially when we are faced with different challenges...