Tips when Filling out a Job Application
posted by: Gretchen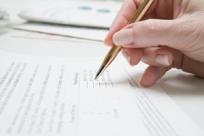 Job search can be very stressful.  There are many steps that you have to take. You look companies that are hiring.  One of the very basic things that you will need to do is to fill out a job application form. The appearance of the application shows your personality and it is one of the factors that the selection panel considers.  It may just be a piece of paper but it demonstrates your ability to follow instructions and your willingness to learn.  You need to complete it completely and honestly because it is your key marketing tool.
Tips to Help you Fill Out a Job Application Form
Prepare the information that you need. Bring your resume, social security card, health card, and others. Prepare the addresses and contact numbers of your previous employers, including your salaries.  It's always good to be prepared.
Read the instructions carefully. Take a few minutes to review the application. They have specific spaces for your answers.  Take it as your test in following instructions.
Fill it out neatly and well-organized. Make sure that your handwriting is presentable.  Your legibility and neatness matter.  You application is your reflection.  Use a pen with blue/black ink.
Be honest in giving your information.  Your information can be checked.
Adapt your answers to the position you are applying for.  Focus on the skills related to the position.
Do not leave any blanks.  If the questions do not apply to you, respond with "n/a." Avoid writing "see resume."
Do not write specific salary requirements.  It is safe to say "negotiable" or "open."
Maintain the consistency of your application and resume. The information should be consistent.
If you're done with you application, the next step will be to deal with job interviews. Look for FAQ samples and study the technique of the interview process (See: How to Tell About Yourself in an Interview).  You will have your dream career.
You might also like
How to Get Pag-ibig Number
Along with your SSS and PhilHealth numbers, once you started working, you will then be asked for your...