Phone Interview Tips and Tricks
posted by: Gretchen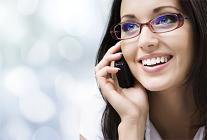 One way of recruiting candidates for employment is through phone interviews.  They are used to screen candidates or applicants in order to cut down the pool of applicants who will be invited for personal interviews.  They are also used to cut down expenses involved in conducting interviews of out-of-town applicants.  They also give you opportunity to decide if the job is worth pursuing or not.
Once you've submitted your application, be prepared for a phone interview anytime.  You never know when a recruiter might call you for a brief interview.
Tips and Tricks for Phone Interview
Here are some tips for you to make your next phone interview successful.
Be prepared.  Keep your resume accessible.  Put it on top of your desk. You can browse it when you need to answer questions.  Have a pen and paper for note taking.  You can also practice answering common questions in a phone interview.
If the time is inconvenient, ask the interviewer if you could talk some other time. You can give some alternatives.  Wait for the next phone call.
Isolate yourself from distractions and noises.  Don't have your interview if you are in a noisy place or if there are distractions in your place.  Stay in a quiet place and turn off any noisy appliance and close the door.
Compose yourself and just relax.  Your train of thoughts comes smoothly if you aren't nervous.
Stand up, walk around the room, and smile during the phone interview. It will give good projection of your voice.  It will create a positive image to the interviewer.
Prepare good answers to typical questions asked during phone interviews and practice saying them aloud.   Speak slowly and clearly.
Never interrupt the interviewer.
Wait for your turn to ask questions.  Be polite to the person conducting the interview.
Get samples of questions and answers in a phone interview.
If you follow these tips and tricks in a phone interview, you'll make it to the face-to-face interview.  Anticipate behavioral interview because you never know what will happen. Good luck!
You might also like
World's Smallest Cellphone
A lot of mobile phone manufacturers are looking for ways on how to attract consumers' attention towards...