How to Upload Photos on Facebook from iPhone
posted by: Rio Dianne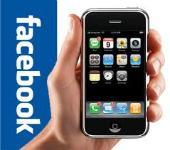 Another feature of the ever popular social networking is that you can upload your favorite pictures or images directly using your mobile phone.  Uploading your images through your cell phone may be easy for some handsets.  However, the process varies though.  Say, you got an iPhone and you wanted to upload your pics using your handset while on the go. But you don't know how to.  Don't worry as this is what we're here for.  We'll tell you how to upload photos on Facebook from iPhone.  Ready?
How to Upload Photos on Facebook from iPhone
The first thing to do is to make sure that you've installed the latest version of the Facebook for iPhone app on your mobile phone.  If you have the old version, then replace it with the latest as the former is not capable of uploading photos.
Now, open the Facebook for iPhone app, and tap the camera icon which you can find at the upper right corner of your screen.  You will then be asked if you want to take a photo or choose an existing image from your gallery which is already stored on your iPhone.
Choosing "Existing Photo" will direct you to a list of your mobile photo albums where you can choose which to upload. Select the photo of choice, write a caption for it, and then tap the "Upload" button and the image will be posted to your wall and added to the "Mobile Uploads" album on your Facebook photos.
That's it.  That's how easy it is on how to upload photos on FB from iPhone while on the go and regardless if you have the iPhone 3G or 4G.  Hope this has helped!
You might also like
When Did Facebook Start
One of the most popular social networking sites is Facebook.  It has more than 200 million active users...