Home Remedies to Lighten Hair
posted by: Feby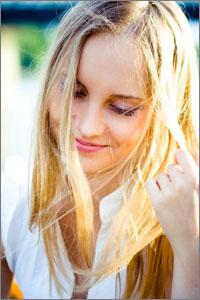 Countless products are sold in the market nowadays to lighten hair.   A lot of them promise spectacular results in a shortest time possible.   But all of these products may damage our tresses and could really cost much in the long run.   Why not use cheap and effective home remedies to lighten hair? In that way you are sure that you use the natural ways to lighten hair and it doesn't cost you much and most importantly it will never damage your hair.
Cheap & Effective Home Remedies to Lighten Hair
Lemon juice is number one on the list.  It has vitamin C to naturally lighten without damaging. Dilute lemon juice concentrated to equal measure of water, then apply it on your hair like a dye then let it stay for several hours before you rinse it off with water.
You can also use honey.   It is a common ingredient used in different hair products because of its conditioning properties.   You can use it with your shampoo everyday to lighten your hair.
Another one is the use of chamomile flowers. Yes that flower can be used as home remedy to lighten in a natural way.   Boil the flower and let it cool for 30 minutes then brush it on to your hair.   Don't let the solution drip from your hair.   And let it stay until your it dries.   After that, rinse it with warm water and for best result use conditioner.
In addition to this you can dye your hair with black tea.   It can lighten and it can also darken your hair if you have that fading hair.   Just let the tea steep in the water for few minutes then let it cool for a while then rub it on your hair and let it dry.
So before heading to that beauty salon try these home remedies first and see the results for yourself.   You can get that safe bleached, dyed , or lighten hair without spending a penny.
You might also like