How to Bleach Hair at Home with Lemon Juice
posted by: Dennis Aguilar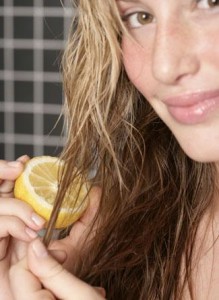 While many women struggle with having shiny, long, and black hair, other girls are digging on how to get their hair blonde since having blonde hair is synonymous to being sexy especially when matched with cool hairstyles. Therefore, to achieve this, you may have to seek for a way on how to go about lightening your hair. And you know very well that this can be done through bleaching. Apparently, the easiest way you can do to alter the color of your hair is to choose from an array of commercially prepared products that will five you bleached hair. However, you need to take into consideration that these products contain harsh chemicals which might cause immense damage to your hair. How about if you resort to home remedies to lighten the color of your hair. Hydrogen peroxide and Clorox are an option, but try to search further for what household products can be used. What do you get then? It's lemon juice. Let's see how to bleach hair at home with lemon juice.
How to Bleach Hair at Home with Lemon Juice
The use of lemon juice as a beauty regimen such as making your body skin white and getting rid of pimples has been tremendously practiced thus it's no different when using it as a bleaching product. There are a lot of variations you can do on how to bleach hair at home with lemon juice. Here are two tips you can choose from:
Tip #1: Dilute a tablespoonful of lemon juice with a gallon of water before applying it to your hair. Dilution is done since the juice generally makes your hair dry. Apply it on your hair evenly. You can also add other ingredients such as olive oil and chamomile tea to your mixture.
Tip #2 Squeeze the lemon directly into you hair. Pay attention to your hair areas including the top, crown and the hair lines.
Choose any of these methods and after doing so, leave the lemon juice in your tresses and allow it to dry under the bright sunglight. Others perform this procedure during swimming at the beach. Once it has dried, they try to plunge into the seawater since doing so can speed up the process of getting your hair bleached. This process may take weeks before noticing the changes though. But doing it on a regular basis will eventually give you blonde hair. Enjoy!
You might also like
How to Dye Hair at Home
Are you tired of your hair color ?  Maybe it's high time for you to dye it. You don't have to spend...