How to Dye Hair at Home
posted by: Gretchen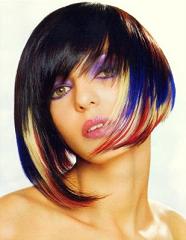 Are you tired of your hair color ?  Maybe it's high time for you to dye it. You don't have to spend much for it. You can do it right at the comfort of your home.  All you have to do is buy a coloring product with good quality. Of course you have to follow the directions in the box. To make it successful, I have some tips for you prior to coloring your hair.
How to Dye your Hair at Home
Search for trusted coloring products. Choose the ones with names like the products of L'Oreal. Check the availability of the product at your favorite beauty supply store or go to Sally Beauty Supply.
Get some sample photos to see how it will look like after applying the dye.
Pick out a color that has a deep conditioning treatment to use after coloring.
Before deciding to buy a hair-color, consider how long you'd like the dye to last.  You can have temporary dye which will be washed out in about three shampoos. You also have semi-permanent which will be washed out in 12 shampoos.  For the permanent color, it should last until hair grows out.
Days before dyeing, condition it well to make the its cuticle well moisturized.  It won't work well if it is dry. It can even make it more brittle and prone to breakage.
Dyes which can be done at home will require you to have an allergy test 48 hours before coloring.  It is done by applying a very small amount of the product to skin and leave it there for 48 hours.  If there's an allergic reaction, do not use the product.  Consider another product.  This test can also be used to check if you have tattoo ink.
Do not use products that have low qualities to bleach or dye as they may cause loss or damage.
Some people use henna to color.  If it's used with short hair, it does not get so messy.
Professional hair dye is still better than relying on what you know. Moreover, professional hairstylists can suggest a perfect color for your haircut and hairstyle.
If you have shiny and beautiful black hair and you don't want to risk its beauty but you'd like to try dyeing, consider hair extensions.  You can try any color and see how you'll look like.
You might also like