Home Remedies to Straighten Curly Hair Naturally
posted by: Feby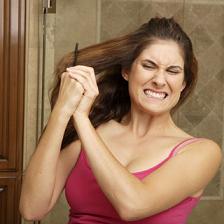 Women are so willing to spend a lot just to have beautiful hair.   Beautiful hair means having that bouncy, shiny and silky straight hair.   That's why women with curly hair will resort to beauty salon and spend thousand of bucks just to have the kind of hair they wanted.   But what if you weren't gifted with that kind and worse not gifted with enough money to undergo any treatment?   No worries!   It's not yet the end of the world and this article will help you find ways to straighten it naturally and won't let you spend much.
Some Home Remedies for Straightening Hair Naturally :
Coconut milk & lemon juice –  Pour 8 oz to a container then add one big lemon juice in it, mix and refrigerate. When it is already creamy, apply it on every strand then wrap your hair for about one hour.  Rinse it and repeat it 3 times per week.  Continue use and you will surely see that it is getting straighter everyday.
Milk + Honey & Strawberries – Pour one cup of milk in a container, add few amount of natural honey and mash strawberries in it and mix thoroughly.  Apply the mixture on every strand and wrap it for about 2 hrs.  Then shampoo with milder one then you may blow dry or use a flat iron to make it straight.
You can also use pure milk.   Spray a liberal amount to every part of your hair then leave it for twenty minutes.   Comb every strand while it is still wet.   After this shampoo and rinse well.   Then blow dry.
Eggs and Olive oil – In a container beat two eggs and mix it with one table spoon of olive oil. When you finally see the soft mixture, grab a comb and try to comb the mixture on your curly hair.  When done, let it stay for about two-three hours and rinse it with shampoo and apply conditioner for beautiful and straighter look.
These are simple yet effective home remedies to straighten hair naturally. You may use flat iron to flatten it if you have really had strong and fuzzy curl hair.   Don't worry these home remedies won't lighten your black hair, it will just straighten them.   You may try now and see the difference.
You might also like