Current Hairstyles for Long Length Hair
posted by: Gretchen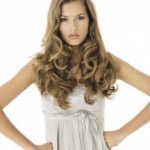 Hairstyles are the concern of many women.  They just love their hair so much and they invest in expensive hair treatments at a beauty salon. Aside from the hair treatment services they get, they also buy hair products to maintain glossy and soft hair.  This is particularly true for women who have grown their hair long.  Their hair is so precious and they get frustrated once it gets messy.  It is a lot harder to take care of compared to short hair though.  But the good thing is that it offers a variety of lengthened styles that you can choose from.
Recent Hairstyles for Long Length Hair
There are so many styles or hairdos that you can do with long hair.  You will never run out of hairstyles.  This is one advantage over medium length hair.  You can play with it with your creativity and sense of style.  This is one advantage of being a female. Lucky are those who are good at styling their own hair.  They won't need the services of a hairstylist. In the last periods, short hairstyles have remained in the spotlight.  However, long hairstyles are back and even more stylish.  In choosing your hairdo you need to consider your personality, body shape, face, hair texture and density, and skin tone. You can have the following hairstyles.
Layers are great with long hairstyles.  Bear in mind that you should never go above the earlobes.
One length look is also great.
Wavy long hair using large curlers.  Curly long hairs are getting popular nowadays.
Sideways ponytail hair bun.  All you need to do is to push it over to one side only.  To make it moist, apply a straightening balm while assembling it.  Secure the tail through enveloping it around the base.
Colored long hairstyles are also "in."
Black celebrity women have beautiful hairstyles.  You can see some pictures online or on magazines for hairdo ideas like those with bangs.  Even if you are over fifty, you can still be stylish so that men won't be able to tell your exact age.
You might also like
Short Hairstyles for 2012
Everyone wanted to be always in with the new especially the fashionistas out there. They make sure that...