How to Cook String Beans and Squash with Coconut Milk
posted by: Feby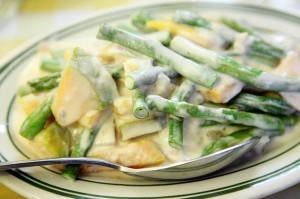 Coconut is largely produced in some parts of Asia. In fact most of their cuisines especially in the Philippines have a taste of coconut milk. Coconut milk has been used for ages to make dishes creamy and delectable. Coconut milk can be a substitute for milk in different kinds of recipes whether that is a dessert or main dish. This ingredient is also perfect for vegetables recipes.
Vegetables such as string beans and squash can be cooked with coconut milk. This combination of ingredients is widely cooked in the Philippine cuisine. This recipe is known as ginataang sitaw at kalabasa.
If you are interested to know about how to cook string beans and squash with coconut milk (ginataang sitaw at kalabasa), you may just read the instructions below.
String Beans and Squash with Coconut Milk  (Ginataang Sitaw at Kalabasa)
Ingredients:
250 grams of squash( kalabasa), peeled and sliced
1 bunch of string beans ( sitaw), cut into 1 ½ inches
2 cups of coconut milk
250 grams of shrimp or crablet
1 thumb sized ginger, sliced into strips
1 medium onion, sliced
3 cloves of garlic, crushed
Fish sauce
Pepper
Cooking Instructions:
In a cooking pot, boil coconut milk, garlic, onion and ginger until the milk thickens. Stir occasionally.
Add the shrimps or crablet and season with fish sauce and pepper. Simmer for 3 minutes.
Put the squash and simmer until it becomes soft. Add string beans and cook for 5 minutes.
Remove from the heat. Transfer it into a serving bowl. Serve hot with rice.
This Filipino food is delicious and healthy. It is best paired with fried fish. You can add chili if you want the spicy version of it.
You might also like
How to Cook Ginataang Mais
Philippines is not only known for its white sand beaches but also known for its fruit of life- coconut...

How to Cook Dinengdeng
Dinengdeng is an authentic dish from the Northern part of the Philippines. It is one of the dishes and...