How to Cook Ginataang Tilapia – Ginataan Tilapia Filipino Recipe
posted by: Feby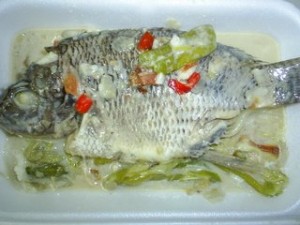 Coconut milk is a special ingredient that everyone loves to put in their dishes. It has this creamy property that can turn any dish into a magical recipe. You can use this ingredient in cooking vegetables, meat and fish to make the dish a tastier one. You don't need to become a Bicolano, just so you can learn how to cook ginataan dishes. All you have to do is follow the simple steps I have written on how to do it.
There are so many dishes that we can make using this ingredient, but this time I am going to teach you how to make ginataang tilapia. Ginataang Tilapia is a Filipino recipe that everybody wants to try. So here are the ingredients and the steps that you need to prepare and follow.
Ginataang Tilapia Ingredients:
3 medium sized Tilapia ( about 1 kilo)
3-4 cups of coconut milk
1 bulb of garlic ( minced)
1 Ginger ( sliced into thin strips)
1 large onion
3 banana pepper ( siling mahaba)
1 eggplant ( talong) * optional
1 small sliced of squash ( kalabasa) *optional
5 pieces of pechay ( Filipino bokchoy)
Fish sauce/salt
Vinegar
Procedure:
Preheat the casserole. Sauté onion, garlic and ginger until golden brown.
Add the squash and eggplant. Put a little vinegar and fish sauce. Stir fry.
Pour the coconut milk into the casserole and let it boil. Once it has reached the boiling point. Lower the heat and simmer until the natural oil comes out.
Add the fish in it. Simmer for few minutes until the fish is already cooked.
You may now add the banana pepper and pechay. Simmer for 2 minutes.
Serve hot with steamed rice.
Ginataang Tilapia Cooking Tips:
You may use bitter gourd instead of eggplant and squash.
If banana pepper isn't available you may use bell pepper instead.
Make sure that the fish are still alive before buying them for better taste.
You can enjoy this recipe anytime of the day. Your family will surely love this, not only for its delicious taste but because it is nutritious too!
Enjoy your meal!
You might also like
How to Cook Ginataang Mais
Philippines is not only known for its white sand beaches but also known for its fruit of life- coconut...