How to Cook Ginataang Tambakol – Ginataang Tambakol Recipe / Ingredients
posted by: Feby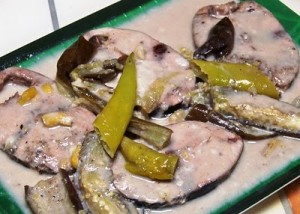 Based from the FAO (Food and Agriculture Organization) of UN, 25 percent of the Philippine' cultivated land was planted with coconut trees, that is the main reason why a great population of Filipino people used coconut milk as a main ingredient in their dishes or recipes. Almost every menu has a touch of this ingredient because of its creamy taste. You can use this in cooking vegetables, meat and fish.
In this article, I will share an all time favorite fish recipe with coconut milk. So, here's how to cook  Ginataang Tambakol.
Ginataang Tambakol Ingredients:
½ kilo of yellow fin tuna fish ( tambakol)
½ cup of thick coconut milk
1 onion, sliced
1 bulb of garlic, crushed
1 medium sized ginger, sliced in strips
2 banana peppers, sliced in two
Pechay
2 medium eggplants, sliced
½ cup of vinegar
Salt/ fish sauce
pepper
water
Cooking Procedure:
Clean the fish well and other ingredients you are going to use such as pechay and eggplant.
In a clean casserole, put the fish, ginger, garlic and onion. Add vinegar, water and pepper. Bring to boil. Once it has reached the boiling point simmer for few minutes to make sure that the fish is well cooked.
Then add the coconut milk. Let it boil again and simmer for few minutes until natural oil is coming out from it. .
Put the eggplant and banana pepper.
Add pechay and lower the heat. You may add salt or fish sauce to taste.
After few minutes, turn off the heat and transfer the dish to a clean serving plate. Serve with steamed rice.
This is another Filipino recipe that uses coconut milk that you can serve anytime you want. It's simple and quick to prepare.
You might also like
How to Cook Ginataang Mais
Philippines is not only known for its white sand beaches but also known for its fruit of life- coconut...