How to Cook Bamboo Shoot with Coconut Milk – Ginataang Labong Recipe / Ingredients
posted by: Feby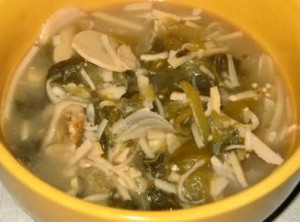 Bamboo shoot has always been part of any Asian cuisine. Whether be it on special menus or ordinary dishes served at home. Bamboo shoots grow in any part of Asia, especially on the Southeast Asia, so it is not surprising at all if there are different bamboo shoots recipe aroundAsiaor even around the world.
In the Philippines, bamboo shoots are called labong. And since the production of coconut is abundant in this country, their famous Filipino dish that uses bamboo shoot is Ginataang labong or bamboo shoot with coconut milk.
If you are wondering how to cook bamboo shoot with coconut milk and asking how does it taste, then read on. Below is the list of ingredients and cooking instructions you need to prepare and do.
Bamboo Shoot with Coconut Milk (Ginataang Labong)
Ingredients to Prepare in Making Ginataang Labong:
1 ½  cups of cooked bamboo shoots or labong
1 ½  cups of canned coconut milk
1 cup of jute leaves( saluyot)
1 cup of crablet or 2 large crabs, cleaned
1 medium sized ginger, crushed or sliced into strips
3 cloves of garlice, crushed
1 medium sized onion, sliced
1 head of lemon grass ( tanglad), tied
1 pieces of chili ( labuyo), sliced
Salt/ fish sauce
Pepper
Cooking Instructions to Follow on How to Cook Bamboo Shoot with Coconut milk:
First, heat the cooking pot and sauté onion, ginger and garlic. Stir in the crabs and the lemon grass. Season with salt and pepper. Add the coconut milk.Bring to boil in a medium heat.
Next, when the crab looks orange and already cooked, add the bamboo shoots and chili. Simmer for 2 minutes.
Then, put the jute leaves in it. Cook for a minute. Turn the heat off.
Finally, transfer it into a serving bowl. Serve with steamed rice.
Bamboo shoot is also available in can, if fresh one is not available in your country and it can be cooked as boiled vegetable or stir fry. You can also use shrimp in replace of crab.
Hope you enjoy your meal!
You might also like