How to Cook Ginataang Halo Halo – Ginataang Halo Halo Recipe / Ingredients
posted by: Feby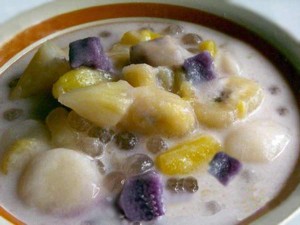 Every child has a memory when they were young about a certain food and I am not an exception of that. When I was young, I usually stay with my aunt in a province during long breaks in school. In there, my aunt would always cook something sweet for our snack or dessert and her specialty is Ginataang Halo-Halo. This recipe has always been a part of my vacation in their province and I love it. And since I don't go there often, I asked my aunt to teach me how to cook Ginataang Halo-halo, so I can cook and eat whenever I want to. And now, I am sharing this Filipino recipe to you, thinking that you may be interested in knowing how to make it and maybe you want to try this too.
The ingredients are quite a lot so you need more time to prepare them. But don't worry; the cooking procedures are simple and easy. Just see them below.
Ingredients:
3 medium sized sweet potatoes ( kamote)
2 medium taro root ( gabi)
3-5 banana ( saba)
Glutinous rice balls (bilo-bilo)
1 cup of Sweetened jack fruit
1 cup of tapioca pearls ( smallest size)
¼ kilo brown sugar
750 ml of water
3-4 cups of coconut milk
Procedures:
Prepare the casserole by putting water in it and bring to boil.
Add half of coconut milk, wait to boil and simmer for few minutes.
Put the taro root, sweet potatoes and bananas. Let it boil and simmer for few minutes until they are almost cooked.
Add the glutinous rice balls, sugar and pour the remaining coconut milk. Cook for 5-7 minutes.
Put in the tapioca pearls and simmer for about one to two minutes.
Turn off the stove.
Serve hot or cold.
You may now enjoy your homemade Ginataang Halo-halo anytime of the day or whenever you feel like eating this. You don't need to go somewhere to have a taste of this, but rather you can have it at your own convenience at HOME.
You might also like
How to Cook Ginataang Mais
Philippines is not only known for its white sand beaches but also known for its fruit of life- coconut...