How to Cook Ginataang Mais
posted by: Feby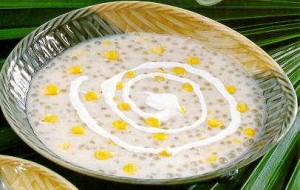 Philippines is not only known for its white sand beaches but also known for its fruit of life- coconut tree. Coconut has so many uses especially in culinary arts. Filipinos use coconut in almost every dish being served in their dining tables, be it in main course or in desserts. In this article, I am glad to teach you one recipe that uses coconut as an ingredient. Today, we are going to learn how to cook Ginataang Mais.
Ginataang Mais is a Filipino dessert that everyone loves, not just for of its sweetness but also for its creamy texture and taste. It is also simple and quick to prepare. So, here are the things that you need to prepare and do.
Ginataang Mais Ingredients:
Half cup of Glutinous rice
1 can of whole kernel corn
3-4 cups of coconut milk
1/4 kilo sugar
Sweetened Jackfruit ( langka)
Tapioca pearl ( sago)
Procedure:
Wash the glutinous rice first and put in a casserole. Add the coconut milk. Mix well and bring to boil.
Once the mixture has reached to its boiling point, lower the heat of the stove and stir occasionally to avoid the glutinous rice from sticking to the casserole for about 15 minutes or until the glutinous rice is already cooked.
You may add now the whole kernel corn. Simmer for five minutes.
Add sugar and tapioca pearl. Stir until the sugar is completely dissolved. Simmer for 1-2 minutes.
Add the sweetened jackfruit.
Serve hot or cold.
This Filipino recipe is not only good for dessert but also good as a snack in any kind of weather.  So, what are you waiting for? Grab your apron now and start cooking.
You might also like