How to Cook Sinigang na Bangus
posted by: Feby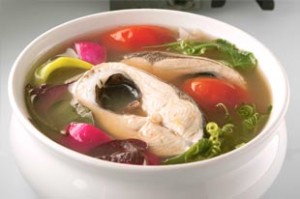 What sinigang or tamarind based recipe should taste be like for you to say it's delicious? Is it the sourness or the combined taste of everything in it? Oh well, Filipino taste buds vary from one another so the answer will vary too. But if I'm going to answer this question, it would be just in a few words- I LOVE SINIGANG in all its form!
If there is one thing I like about sinigang, it's the comfort it gives during rainy days. Meat, seafood and fish can be use to cook sinigang. It's delicious, healthy and affordable.
Since I am so fond of this dish, I am sharing you a recipe that you can add to your menu list. To make this a healthier one, let's use fish or Bangus. Using fish in sinigang is the simplest and easiest to cook. Let's all learn how to cook sinigang na Bangus.
SINIGANG NA BANGUS
Ingredients:
1 large milk fish or Bangus ( sliced in a desired serving size)
2 pieces tomatoes, sliced
1 onion, sliced
1 small ginger, sliced
½ cup of string beans ( sitaw)
1 eggplant, sliced
4 pieces of lady finger (okra), sliced
1 cup of young leaves of camote or sweet potato
1-2 pieces of banana pepper
Salt or fish sauce
Tamarind mix powder
2-3 cups of water from washed rice
Cooking procedure:
Put the water into the casserole; add tomatoes, ginger and onion. Bring to boil.
Add the fish into the boiling water. Cover the casserole and cook for few minutes. Then add the tamarind powder mix and the fish sauce. Make sure that the powder was properly mixed into it
Once you can see that the fish is almost cooked, add the string beans, lady finger and eggplant. Simmer but don't overcook the vegetables.
Put in the young leaves and banana pepper. Boil for few seconds.
Turn off the heat and transfer it into a serving bowl.
Serve with rice.
In preparing the ingredients, made sure you clean them well before cooking. Don't overcook the ingredients because it can ruin the taste of the food. You need to be certain also about the freshness of the ingredients to really ensure that you are preparing and serving the best for your loved ones and friends.
You might also like