How to Cook Sinigang na Baboy
posted by: Rowena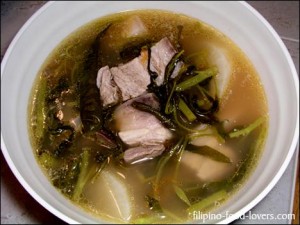 Pork sinigang is one of the old time favorites of many. It originated here in the Philippines and has been loved until now. Personally, this Filipino recipe is one of my much- loved dishes. Sinigang na baboy has been my ever favorite since I was a kid. Traditionally, this dish is tamarind based, from natural ingredients. Different versions like sinigang na hipon(shrimp) or fish, or it can also be sinigang na baka (beef). But whatever you would like to have, you'll love it for sure.
Here are the ingredients so you can make sinigang na baboy:
1/2 kilo pork, cubed (kasim, liempo, ribs)
2 pcs. small onions
1 head garlic
5 pcs ripe tomatoes
4 medium- sized gabi
1 pc radish ( labanos), thinly cut
1 bunch of string beans (sitaw)
1 bunch of Kangkong
2 pcs. whole green pepper (siling haba)
Knorr Pansigang flavor mix (others use tamarind, balimbi, calamansi)
Pepper
Salt or patis to taste
Procedures on how to cook Sinigang na baboy:
Put the pork in a pot. Add the pepper, garlic, some salt and tomatoes. Place a small amount of water. Let it boil. Wait for some minutes. Don't let it dry so much. It would be tastier if you do it this way.
Add water when it's ready, add the gabi. Let it boil for more minutes. Wait until meat is tender. Start preparing the vegetables. You have to wash them thoroughly.
When meat is tender, add the radish, string beans or sitaw and the siling haba. Then put some nor sinigang mix. Coo for another 10 minutes.
Lastly, put the kangkong leaves. Add salt to taste.
Serve hot with rice.
So yummy! It starves me really. Now you know how to cook sinigang na baboy. You'll love this food. It's perfect for Filipino taste buds (panlasang Pinoy). Take pleasure in cooking!
You might also like
How to Cook Adobong Baboy
Filipinos are fond of discovering new dishes, adapting and creating variations to every recipe. That...