How to Cook Sinigang Na Hipon
posted by: Feby
The island of the Philippines is not only known for its famous Filipino recipe adobo but it is also known for its tamarind soup based dishes. Tamarind soup recipes are characterized by its sourness. Tamarind soup is commonly known by Filipinos as Sigang or sinigang. You can cook tamarind soup based recipes using pork, fish and seafood. The sourness level may vary and will depend to the one who cooks it.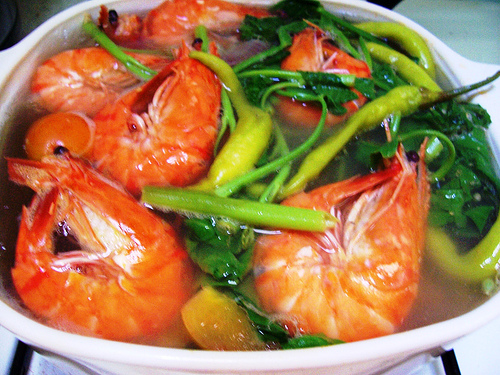 My family loves seafood and sinigang as well. So often times, when we are together, I usually prepare sinigang na hipon (shrimp) for them. Why shrimp in tamarind soup? Aside from the fact that our family loves this, it is also easy and quick to prepare.
Anyway, here's how to cook sinigang na hipon.
Sinigang na Hipon ( Shrimp in Tamarind Soup)
Ingredients:
½ kilo medium sized shrimps
2 pieces tomatoes, sliced
1 large onion, sliced
1 small ginger, sliced
1 bundle of string beans
1 bundle of water spinach or kangkong
1 eggplant, sliced diagonally
2 banana pepper ( siling mahaba-green)
Salt or fish sauce to taste
2-3 cups of water
Tamarind mix or sinigang mix
Cooking procedure:
In a cooking pot, put 2-3 cups of water, tomatoes, onion and ginger. Bring to boil.
Add the shrimp. Re-boil for few minutes.
Put the string beans, eggplant, and banana pepper. Re-boil. Don't overcook the vegetables.
Add the tamarind mix and fish sauce. Simmer for 1 minute.
Then put the water spinach into it. Simmer for 2 minutes.
Turn of the heat and transfer it into a serving bowl.
Serve with steamed rice.
In cooking this kind of Filipino dish, make sure you don't overcook the vegetable but you cook the seafood well. Use fresh shrimps and vegetables to achieve the desired taste of sinigang and to come up with the delicious menu or recipe.
You might also like
How to Cook Pork Humba
Adobo is the most popular Filipino dish in the Philippines. A lot of foreigners have tasted this dish...

How to Cook Chicken Adobo
Filipinos are not only known for being hospitable but also how they love to cook food and eat.  Filipino...