How to Cook Oriental Pork Recipe
posted by: Feby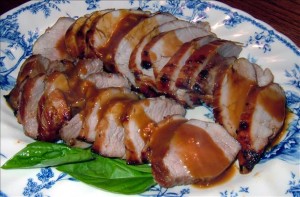 Are you tired of your usual pork recipes? Tired of the same dish over and over again? If you think adobo, nilaga and sinigang pork are too much to take, then it is about time to change the recipe of your favorite meat. Why not try an oriental style of cooking but with a touch of Filipino style? Sounds interesting right?
Filipino food or dishes are really delicious but sometimes you have to incorporate another country's style to make the recipe more appealing to anyone. In this article we will add flavors and color to your usual pork recipes. Let's all learn how to cook oriental pork recipe with ease.
Cooking oriental pork recipe doesn't require a skilled cook to make it perfect. Oriental pork recipe ingredients are not hard to find in our country because they are all here in the Philippines. Anyway, just read on and find out how to make oriental pork recipe at your own convenience.
Oriental Pork Recipe
Ingredients:
500 grams of pork tenderloin, sliced into serving size
1 tablespoon of curry powder or cube
½ cp of green peas
½ cp of whole kernel corn ( canned)
250 grams of any sweet style spaghetti sauce
2 tablespoon of all-purpose flour ( make sure to dissolve it in 1 cup of water
1 green bell pepper, sliced into thick strips
3 stalks of young onion, sliced
1 chicken cube
Salt
Pepper
Cooking oil
Cooking procedure:
Heat a big pan, put about two tablespoons of cooking oil. Sauté bell pepper and green onion until soft. Remove from the pan and set aside.
In the same pan, put little oil. Sauté the pork for a couple of minutes. Then you may put into it the curry powder, stir and cook for a minute.
Next, add spaghetti sauce, chicken cube, flour mixture, salt and pepper. Cover the pan and simmer for about ten minutes. Make sure you simmer it in an over low heat.
Then, after 10 minutes, add peas, corn, bell pepper and green onion. Cover the pan and cook for a minute.
Finally, turn off the heat and place the oriental pork recipe in a serving plate. You may serve this with steamed or fried rice.
Oriental pork recipe is rich in vitamin B1. This dish is not only delicious but also good for your health.
You might also like
How to Cook Pork Humba
Adobo is the most popular Filipino dish in the Philippines. A lot of foreigners have tasted this dish...

How to Cook Adobong Baboy
Filipinos are fond of discovering new dishes, adapting and creating variations to every recipe. That...

How to Cook Pork Tonkatsu
Nowadays, we don't need to travel abroad to have a taste of their famous delicacies and recipes because...