How to Cook Pork Tonkatsu
posted by: Feby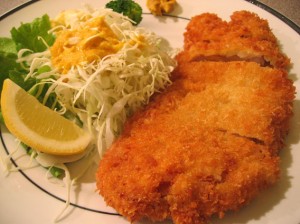 Nowadays, we don't need to travel abroad to have a taste of their famous delicacies and recipes because you are sure to find them in thePhilippines. There are so many restaurants to choose from. From Western to Oriental cuisines, they are all here. However, not all of us can afford to dine at those fancy restaurants that offer their authentic dishes. But hey, don't be sad if you are one those, because you can still make your own version at an affordable price. Hmmm, sounds great right?
In this article, I will share how to cook pork Tonkatsu (Japanese recipe)-an all time favorite of mine and a time saver recipe. Pork Tonkatsu is a breaded pork recipe with a special sauce. Yes, just that. Could you believe that? Yes, you can make a simple Japanese recipe by just a putting a twist on your usual fried pork recipe?
Pork Tonkatsu is available in almost every Japanese restaurants but it will cost you so much compared when you prepare and make it at home. Pork Tonkatsu ingredients are available anywhere in thePhilippines, so it's not impossible for you to cook and serve it. Anyway, let's start cooking and learn how to make pork Tonkatsu and how to make its sauce.
Pork Tonkatsu Ingredients:
For the meat:
500 grams of pork loin, sliced into serving size
1 cup of bread crumbs or breading mix
1 cup of all purpose flour
1 egg, slightly beaten
Pepper
Salt
Cooking oil
For the sauce:
¼ cup of tomato ketchup
3-4 tablespoons of Worcestershire sauce
1 tablespoon of brown sugar
1 tablespoon of mirin ( Japanese sweet rice wine)
2 cloves of garlic ( minced)
1 thumb sized ginger ( grated)
Cooking Procedure:
Heat the frying pan and put a liberal amount of cooking oil in it. Before you put the pork into the pan, dip the pork into the flour, then to the beaten egg and roll it into the bread crumbs. Fry the sliced pork until golden brown.
Then place the fried breaded pork into a plate with paper towel on it.
Let it cool for a bit and slice into thick strips. Set aside.
For the sauce, in the sauce pan, mix all the sauce ingredients and blend well. Let it simmer in a very low heat. Stir once in while and cook for about ten minutes. Turn the heat off.
In a clean bowl, put hot and steamed rice in it, then place the fried breaded pork on top of it and pour a little amount of sauce. Garnish with shredded cabbage and serve it with miso soup.
This is a simple and quick to prepare Japanese food. You can make the same recipe with different meat like chicken (chicken katsu) and beef (beef katsu). You may use chopsticks also to really feel that you are dining at a Japanese restaurant or even traveling to Japan.
You might also like
How to Cook Tikoy with Egg
Annually, Chinese New Year is celebrated and you would always notice different recipes that Chinese families...