How to Cook Menudo Filipino Style
posted by: Rio Dianne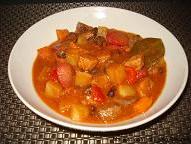 There is an array of traditional Filipino dishes that will satisfy the ticker of not just the Filipinos in the country but as well as those who are in other places and long for a taste of home.  And among the delicious recipes is the Pork Menudo.  This food is usually served as everyday viand or even in festive gatherings.  The Pinoy style composes of mixed ingredients together with a thickened sauce and brings out a really rich flavor.   The homemade Menudo dish is something so mouthwatering that you'll never resent.   Excited much?  Then learn how to cook it right in your kitchen.   Here is a recipe on how to cook Menudo Filipino style.
How to Cook Menudo Filipino Style
Ingredients:
1 kilogram pork tenderloin; cubed
¼ kilogram pork liver; cubed
3 medium potatoes; cubed
2 medium carrots; cubed
1 can tomato sauce
1 medium chopped onion
2 garlic cloves; minced
1 medium diced red bell pepper
1 medium diced green bell pepper
½ cup raisins
50 grams grated cheese
Salt and black pepper to taste
How to Make It :
Sauté onion and garlic, add pork tenderloin. Let it simmer.
Add the fresh pork liver. Allow it to cook covered.
Add tomato sauce, potatoes, carrots, and raisins. Let it simmer and stir occasionally.
Add peppers and seasoning. Add salt and pepper to taste.
Add the grated cheese. Allow it to melt and stir evenly.
Serve hot.
And oh, don't forget to smile and give your recipe so much love and care so that your loved ones will surely enjoy your dish.  Good luck!
You might also like
How to Cook Adobong Baboy
Filipinos are fond of discovering new dishes, adapting and creating variations to every recipe. That...

How to Cook Chicken Adobo
Filipinos are not only known for being hospitable but also how they love to cook food and eat.  Filipino...