How to Cook Salmon Belly in Miso Soup
posted by: Feby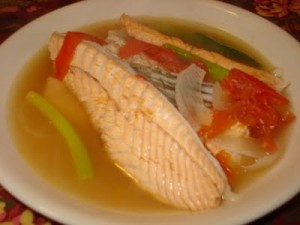 Sinigang is I think the second popular dish in the Philippines. It uses different souring ingredients like tamarind, guava, kamias and calamansi or any Sinigang mix available in the supermarket. You can use pork, seafood and fish for this recipe. The cooking procedure is not that complicated, so anyone can prepare and can serve this dish anytime.
However, in this article, we will ditch the usual souring ingredients. We will use the Japanese yellow miso paste and Salmon belly to make this Sinigang recipe. The miso paste and salmon belly are available in any supermarkets.
Anyway, here are the things you will need on how to cook salmon belly in miso soup.
Salmon Belly in Miso Soup ( Sinigang sa Miso na salmon)
Ingredients:
500 grams of salmon belly ( pre-cut)
1 onion, sliced
¼ cup of sliced tomatoes
3 cloves of garlic, minced
2 tablespoon of miso paste
1 bundle of pechay
½ tablespoon of Sinigang mix ( miso)
Water or rice water (hugas bigas)
Cooking oil
Fish sauce/ salt
Cooking Procedure:
In a cooking pot, put a little amount of oil then heat it. Sauté garlic, onion and tomatoes until soft. Stir in it the miso paste. Then add the Sinigang mix and water. Bring to boil.
 Add the salmon into the pot. You may put some seasonings or the fish sauce also. Let it re-boil until the fish is already cooked.
Put the pechay in it and simmer for few minutes. Don't overcook the vegetables.
Turn of the heat from the stove. Transfer the food into the serving bowl.
Serve hot with steamed rice.
You can adjust the sourness and the saltiness depending on your taste buds. You can also use salmon head in this recipe.   Salmon belly is the most appropriate part for children at home because it's boneless compared to salmon head.
Sinigang sa miso is really a must-try recipe. You may print the steps on how to make and prepare this recipe out and try it for yourself.
You might also like
How to Cook Pork Humba
Adobo is the most popular Filipino dish in the Philippines. A lot of foreigners have tasted this dish...