How to Cook Rajma Chawal
posted by: Gretchen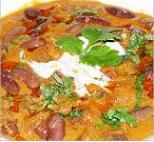 For vegetarians out there, India has a good and healthy recipe for you.  It's actually called rajma chawal (red kidney beans with rice).  This is a meal in itself and it captures the taste and nutrition of authentic Indian cuisine. It has rich flavor and aroma that you just can't resist.  It is a blend of rajma beans with tomato puree and spice powders (masala).  It comes with steamed rice and onion salad.  This is present in the menu of every Indian house and restaurant, particularly in the north.
If you enjoy this dish so much, how about learning how to prepare or cook it ? Take a look at the following steps.
Ingredients for Rajma
3 cups rajma (kidney beans)
3 cups water (for soaking)
2 teaspoon grated ginger (adrak)
1 big tomato (chopped)
1 teaspoon turmeric powder (haldi)
2 pieces of onion (finely chopped)
¼ teaspoon pepper powder
1 teaspoon chili powder
1 ½ teaspoon cumin seeds (jeera) powder
3 tablespoon oil
1 lemon
½ bunch of coriander (dhania) leaves
Salt
Procedure
Soak kidney beans in water for 8 hours.
Boil until the beans are soft and tender but not broken.
Drain and set aside but do not throw away the water it is cooked in.
Saute the chopped onion until becomes golden brown.       Add the ginger and then the chopped tomato.
Add the tumeric powder, chili powder, pepper powder, and cumin powder and fry the mixture.
Add the cooked rajma with the water to the pan and mix well.  Add salt to taste.
Let it boil until the grabby becomes thick.
Put off the fire and pour the curry into the serving dish.
Squeeze a lemon and garnish with chopped coriander leaves.
Procedure for Chawal
Wash rice and soak in water.
Heat the water in handi and then add salt, rice, and lemon juice. It's done!
Remove the drain.
This dish is perfect for those who go for a vegetarian diet.  Don't worry because it is low in calories.  This is Indian style of enjoying beans!
You might also like
Dating Tips for Indian Men
Indian guys are handsome.  Just like Indian women, they have unique facial features that really catch...

How to Cook Chicken Fillet
What is so special about chicken meat? Maybe you are one of those people who ask this question when you...