How to Cook Chicken Fillet
posted by: Feby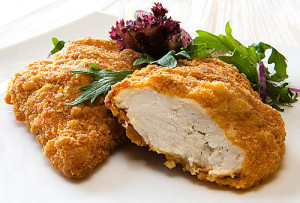 What is so special about chicken meat? Maybe you are one of those people who ask this question when you heard someone talking about eating healthy. Eating healthy is one of the many trends nowadays that people needs to do and follow if they want to live longer. Anyway, we always choose chicken over any other meat because it's healthier and leaner. This is good for health buff kind of person but doesn't want to cut back his meat intake. Chicken meat especially the breast part is a very good source of protein but low in calories.
In this article we will put a twist on your usual recipe for chicken breast recipe. So, here is how to cook chicken fillet using chicken breast.
Chicken Fillet- Filipino Style
½ kilo of chicken breast
1 bulb of garlic, minced
2 tablespoons of  calamansi juice
¼ cup of soy sauce
Pepper
½ cup of peanut, crushed finely
1 cup of all purpose flour
1-2 eggs, beaten
Canola oil ( one of the healthiest cooking oil)
Cooking procedure:
Clean the chicken meat and cut it into desired serving size.
In a mixing bowl, put the soy sauce, calamansi juice, garlic and pepper. Then add the chicken meat and marinate for few hours.
In a frying pan, heat canola oil and deep fry the chicken meat until golden brown. (Before you put the chicken meat into a frying pan, roll it first to the beaten egg, then into crushed peanuts and finally to the flour.)
Then place the newly fried chicken into a plate with paper towel. Paper towel will absorb the excess oil from fried chicken meat.
Finally, place all the cooked meat into a serving plate. You may serve this with barbecue sauce.
Chicken fillet may be not an authentic Filipino recipe but we can always put our pinoy style in cooking to make it as if it's our own recipe. Enjoy your meal folks!
You might also like