How to Cook Chicken Caldereta – Chicken Caldereta Recipe / Ingredients
posted by: Feby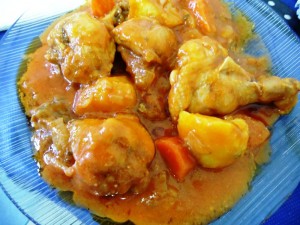 Many people prefer to cook chicken meat among other else because it's lean and it contains less fat. If you are looking for another recipe that you can try to vary your usual chicken recipe, you are on the right article. In this article, we are going to learn another Filipino recipe that you will surely love.
I'm talking about chicken caldereta. I know it's unusual because we usually cook beef or goat meat caldereta. Just so you know, chicken version is delicious too. In some places they use coconut milk to enhance the taste of this recipe. By the way, I don't want to prolong this introduction, so read on for the instructions on how to cook chicken caldereta- Filipino style.
Chicken Caldereta Ingredients:
½ kilo chicken ( wings or legs)
2 medium sized potatoes, diced
1 medium carrot, diced
1 green bell pepper
1 red bell pepper
1-2 chili pepper, sliced
5 regular sized hotdogs, sliced
1 pouch of tomato sauce or paste
3 cloves of garlic, minced
1 medium sized onion, minced
½ cup or less grated cheese
Pepper
Salt
Cooking oil
Cooking Procedure:
In a cooking pot, put a little amount of oil. Sauté garlic and onion until golden brown.
Add chicken into the pot and stir fry. Sprinkle pepper and salt. Put about 1 and half cups of water and bring to boil until the chicken is almost tender.
Add potatoes and carrots. Don't overcook them. After few minutes, add hotdogs.
Pour tomato sauce or paste and simmer for few minutes. Occasionally stir it.
Add cheese and stir until it melts and blend with the sauce and meat.
Add bell peppers and chili. Simmer for 2 minutes. Turn off the heat and transfer it into a clean serving plate.
Serve with hot steamed rice.
This recipe or food is another pinoy dish that you can serve anytime in less than thirty minutes. You can serve this in family gatherings or simple get together.
You might also like
How to Cook Chicken Fillet
What is so special about chicken meat? Maybe you are one of those people who ask this question when you...